Behind the meter solar PV
In the rapid race to build the solar powered future, rooftop solar installations are leading the way. In fact, the IEA estimates that nearly half of the growth in solar energy capacity globally will be rooftop solar installations by 2030.
But these 'behind the meter' power systems can cause headaches for system operators, balancing authorities and network service providers. How much energy do they generate each month, quarter or year? What is their power output across the day or a given hour at peak demand? There is a stack of questions that these devices raise, which can mean they are problematic for the day to day responsibilities of the hard working folks at energy markets and electricity networks across the world. And since they aren't directly metered, the answer is not a simple one to acquire!
But, as you know, it's our mission to make yours a success. We're dedicated to making it easy to access the supporting solar data your organisation needs to get the job done. And when it comes to "BtM" solar, there's no exception - we make that easy too! I'll get to how you can take advantage of that capability, but first, some more helpful details for those researching the topic.
Solar power forecasting for behind the meter solar
When does solar power forecasting for behind the meter solar become an important tool for energy market and electricity network organisations to include in their operations and planning?
The answer to this varies quite widely, but a good general rule is that as soon as penetrations of these small (<100kW) and medium (<1 MW) solar PV sites reach 1-2% of total load, forecasting the power output of these PV systems starts to become critical for efficient market and network operation. Without including a behind the meter solar forecast into the overall load forecasting operations, errors in the daily load forecast start to appear, of approximately the same magnitude in the middle of the daytime.
1-2% may not sound like much, it all comes down to the size of the energy market, and its overall reserve capacity. Consider this helpful illustration. If market operator or balancing authority operating a 20GW, 50GW or 100GW system experiences and unexpected 2% load forecast error, 400MW of reserve capacity will be required for that 20GW system (and 1GW, 2GW respectively for the other scenarios). 400MW is the size of an entire power plant in many cases! And most 'backup' reserve capacity systems are an order of magnitude smaller, so several are likely to be required in peak demand situations. In most cases, this won't lead to major problems (i.e. load shedding or brown-outs), but it does incrementally add costs, which eventually make their way onto those whom the energy market serves.
Behind the meter solar power forecasting can become mission critical
However, as solar penetrations increase further, the problem does become mission critical. Consider the following example from our experience in Australia, where rooftop solar PV installation rates and penetration are amongst the highest in the world (1 in 4 aussie homes own a rooftop solar system)!
On 17 February 2017, a convective storm event occurred over eastern New South Wales (where Sydney is located, in the southeastern end of Australia). In this region, there was nearly 1GW of solar installed at the time of the event. Across the day, thunderstorms develop and move over the eastern seaboard, where most of the folks (and solar PV) live in NSW, and as a result a large ramping event occurred.
The result was a very large drop off in solar PV generation, equivalent to 600MW of generation disappearing in this market region in just a few hours. For your reference, this market region had a peak demand of just over of 14GW that year. So this change in behind the meter solar power output was equivalent to about a 4.2% change with respect to the peak demand across that market region. Without accurate solar forecasting technologies that capture the development of cloud cover servicing the Australian Energy Market Operator in this scenario, load forecasting errors of 4-5% would result. Ouch!

Grid Aggregations for the Behind the Meter Solar Challenge
These challenges are precisely why we've created our Grid Aggregations data product, which was designed for estimating and forecasting the aggregate power output from behind the meter solar PV systems.
This solution pairs our rapid-update cloud and solar irradiance modelling and combines it with information about the installed capacities and locations of your BtM solar fleet. The result is live, forecast and historical estimates of behind the meter solar performance which are updated every 10 or 15 minutes.
This product is quite dynamic and is tailored specifically to customer requirements. For example, we can group ("aggregate") the power output from all solar PV systems in a given market or other geographic region, or according to physical or virtual power asset (e.g. transmission or distribution network assets). It is in use by energy market operators and utilities throughout the world, and has improved load forecasting mean absolute errors by as much as 5-10% after implementation.
Matching up satellite based estimates with PV measurements
One of the challenges with this approach, is that other forecasting vendors have done similar things before, but with very poor results. This has led many to dismiss satellite based methods as a solution for behind the meter solar forecasting.
However, at Solcast, we've re-built this type of solar forecasting with an entirely new stack of technology. From 3rd generation weather satellites like GOES-16, GOES-17 and Himawari-8, to probabilistic ensemble based forecasting with blended weather model wind fields, all the way through to ground based validation based on real PV system data, we've pioneered completely new methods for these types of forecasts.
To better elucidate the reliability of our Grid Aggregations data, here are few examples of how the forecasting data matches up with real-world PV generation.
Behind the meter solar forecasting validation examples
Here's an example of how our "Grid Aggregations" data compares to upscaled measured actuals (ie "real" inverter data that is cleaned and pooled), for the 13GW of installed solar in the UK. Measured data is a partial "truth" and therefore appealing, leading many to try to use it as the primary source of data for BtM solar forecasting applications. However, this type of data can also be patchy, messy and prone to errors. In many cases, we've used our Grid Aggregations to detect these errors, and help grid operators clean up these datasets. Just check out how well our live Grid Aggregations estimated actuals data line up with BtM PV measurements in the UK.

Here is yet another example of our Grid Aggregations data compared to BtM solar PV measurements in Germany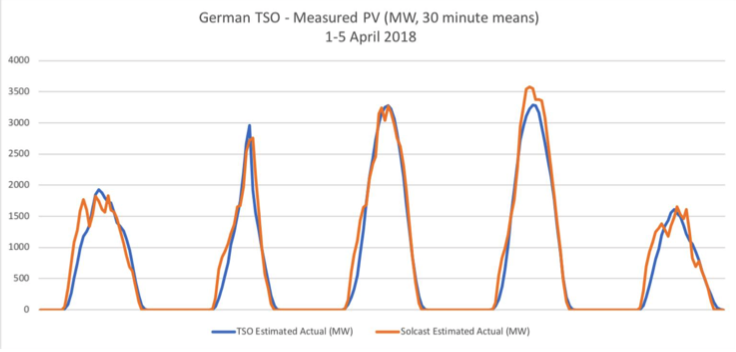 Thanks for reading! Closing thoughts
In closing, behind the meter solar forecasting is very important for energy market operators, utilities and network service providers who have elevated levels of these system types. Our satellite based approach, based on brand new technologies, including proprietary PV power conversion modelling and next-generation satellite hardware, is available for a free trial through our API Toolkit & can take the 'pain' out of this problem.
In a future post, I plan to cover off a few follow-up topics closely related to this one, as there are several more questions to answer. Including:
How can an organisation accurately forecast BTM solar generation when there is little to no data on PV installations?
What is the minimum amount of data required to get a BTM solar generation forecast?
How to set-up and/or evaluate a Grid Aggregation in the API Toolkit
Be sure to sign-up for Solcast's Rapid Updates below to stay in touch with our blog content. Until next time!
---
Set-up your own Grid Aggregation in a few simple steps
If you're interested in Grid Aggregations, you should sign-up for our API Toolkit. It's free, fast and will show you a selection of real-world Grid Aggregations operating near you. Be sure to select a 'commercial' account type to take advantage of this offer. If you want to set-up your own Grid Aggregation, contact us via the chat bubble in bottom-right, or by sending us an email
---
Helpful related resources:
http://blogs.itron.com/a-simple-approach-for-addressing-behind-the-meter-solar-generation/
https://www.iso-ne.com/static-assets/documents/2017/05/clg_meeting_black_panelist_presentation_june_1_2017_final.pdf
https://www.energycentral.com/c/em/factoring-behind-meter-generation-demand-forecast-algorithm-iso-new-england-and