Finally a global solar data API built for YOU
As we've discussed before, solar energy is an exponential technology, growing rapidly across the globe. And given this expansion of solar energy capacity is a worldwide phenomena, we believe the solar data services that enable it should be too.
This level of thinking (global, rapid) is what our team at Solcast aspires to. Our motivation, what gets us out of bed each day, is the drive is to deliver the data and tools YOU need to build the solar powered future. We aim to provide the best data with the least hassle, wherever your solar mission takes you.
Solar radiation data services across six continents
We originally launched our global solar data API service in early 2017 under a 'beta' label, believing we'd built a system that was much needed and long overdue for our customers.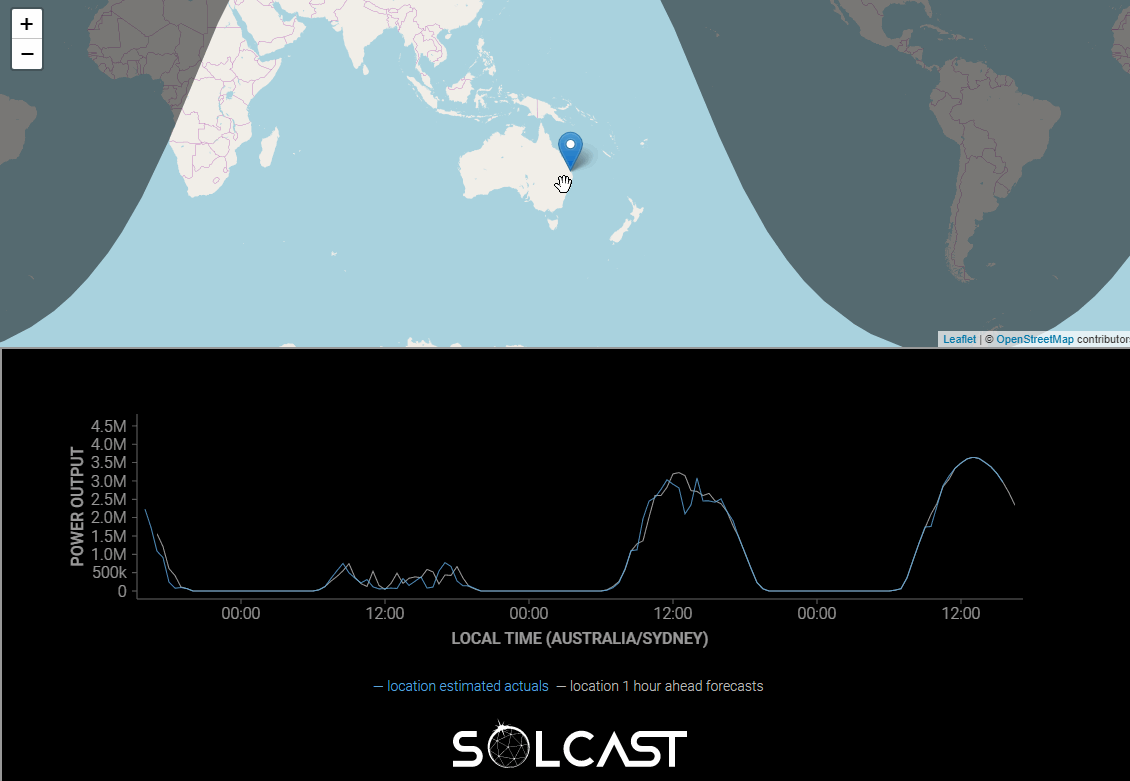 Using five geostationary weather satellites, sending us new images of the Earth and its cloud cover every 5-15 minutes, we compute the total available solar radiation over six continents on a rapid update cycle. Then, we pipe this data through a flexible and fast API service, which is available on-demand. For our World Solar Radiation API request, only a location (latitude and longitude) is required to get retrieve live and forecast data.
Need an estimate of the real-time availability of solar radiation in Kazakhstan? No problem. Does your application require a forecast of the global horizontal irradiance (GHI) available tomorrow over a specific region of the United Kingdom. Its a done deal. Looking for a value of the density of cloud cover over the past 7 days in Dubai? We can do that too.
Wherever you need live or forecast solar radiation data, globally, our World Solar Radiation API can meet your needs. It's currently delivering 30 minute resolution forecasts (rapid update, through 7 days ahead) and live estimated actuals (real-time through the past 7 days) to thousands of users across the globe. Now, it's time to remove that long-standing 'beta' tag, and move forward with this exciting data product as an official part of our paid offering.
Still in development and not ready to pay? No worries, you can continue to use both the World Solar Radiation and World PV Power data products under our Free Tier, with up to 10 API requests per day (and don't forget about our free data offering for researchers!)
Pricing model for our solar data API announced
Our introductory pricing model for the World Solar Radiation and World PV Power API data products is designed to be simple, flexible, and suitable for pay-as-you-go applications.
Users will pay a monthly subscription fee ($370 USD at the time of writing), which provides an initial budget of 10,000 API GET requests. Need more requests? You'll be charged just $20 USD per additional 10,000 requests / month.
Comparing the World API requests to our 'Site-based' API
For those still trying to make sense of which of our data products is the best fit, here's some helpful information.
The World Solar Radiation and World PV Power API requests are made by simply specifying a lat/lon in your request. The data you'll get back are limited to 30-minute time resolution for both forecast (next 7 days, including 0-4 hour satellite based 'nowcasts') and estimated actuals (live data + the past 7 days). Also, this data is not generated from our modelling system for the exact pinpoint location you request for, like it is for our Utility and Weather sites, so there's some interpolation going on with the Simple Lat/Lon based requests.
The data are rapid updated every 5-15 minutes (with each new satellite scan), and cover all six major continents (excludes Antarctica). Each forecast includes 90% and 10% probability for the main parameters (GHI and DNI for radiation, Power for PV).
The World Solar Radiation API includes all of the following parameters (read here for more information on data specification):
Global Horizontal Irradiance (GHI)
Direct Normal Irradiance (DNI)
Diffuse Horizontal Irradiance (DIF, DHI)
Cloud Opacity
Temperature
Solar zenith angle
Solar azimuth angle
The World PV Power API includes PV Power Output only (read here for more information on data specification).
When is a 'Site-based' API option more suitable?
If you need higher time-resolution, or if pinpoint location accuracy is critical for you, you'll need to use our site-based API products (available at 5, 10, 15 and 30 minute resolutions), which you can access through the Solcast API Toolkit. Sites-based products include specifically tailored products for Utility Scale Solar (>1MW), Rooftop Solar and Solar Radiation (Weather Sites). Utility Sites allow you to get radiation AND (tuned) power forecasts, for the same site.
Additional options for high-volume users
If your project is likely to require very high request volumes, you might be interested in our Enterprise offering. For this option, we partner with a local contracting entity to provide you with an SLA and other perks in order to provide you with an overall better 'per request' value. This option is ideal for making several hundred thousand or even millions of API requests each month. Get in touch with us for more information!
Get started now, for free, including 14-day trial for Paid tier access
You can register for access to the Solcast API services, and test out the data products you need through the Solcast API Toolkit - it takes only minutes to get started!
Once again, we've built these products with YOU in mind. Our goal, is to help you get the job done, and make that solar-powered future a reality. Thanks for being a part of the global shift to renewable energy generation, and for your interest in the Solcast API.