Solcast has been growing rapidly as a company over the last couple of years, and with growth comes the need for a lot more hands on deck.
Alex Jarkey is the newest employee at Solcast and has taken on the demanding role of CTO.
Read on for a quick interview with Alex.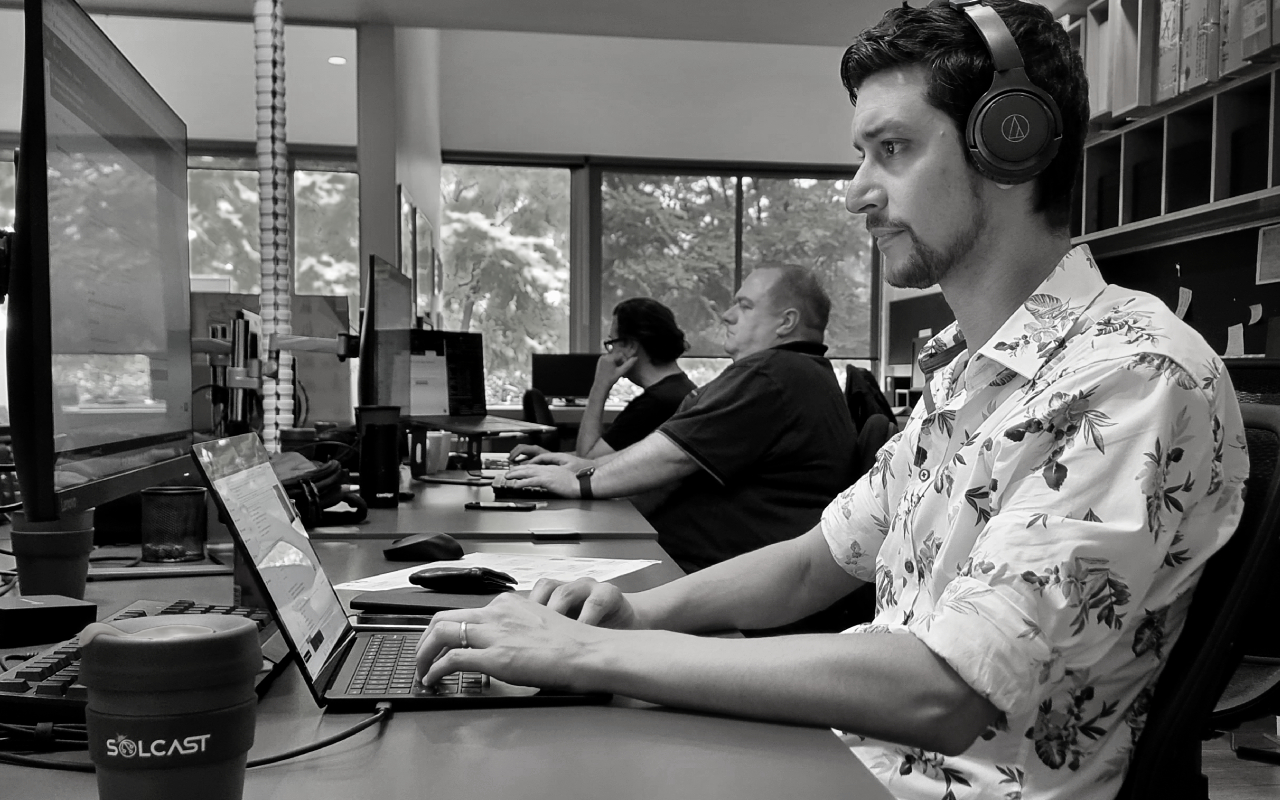 How have you found it settling in to Solcast over the last two weeks?
I'm surprised at how quickly I've gotten to know the general codebase and the team. I'm really impressed with how switched on and motivated everyone is, particularly the modelling team. They are really top of their class in terms of what they can do. I like working with a team of people who are all very motivated and intelligent and that's definitely the case here. I'm looking forward to what the future holds.
Where were you working before joining Solcast?
I've worked for a lot of different places over my career. One of my first engineering roles was for Thales doing various things for them like radar and sonar, that was out in Garden Island in Watsons Bay.
Then I worked for a company that specialized in RFID tags and we did a whole range of big projects in a variety of different spaces. Transport, mining, inventory management. Some of those were really big projects like heavy vehicle management for Sydney Ports Corporation, a series of container tracking projects in different parts of Australia, Port Adelaide, Perth. We also worked with QANTAS on the Q-tag devices for baggage handlers so passengers could have their luggage tracked with an RFID scanner.
I moved to Melbourne for a few years to work for Planet Innovation, they were a great company to work for. They do a whole suite of manufacturing and consulting for technology products, primarily IEC62304 medical certified equipment, so things that were suitable in health care and other highly regulated industries.
I came back up to Sydney for family reasons after a couple of years and started a role as CTO in the charity space, doing fund-raising products for not for profits and charities: white-label technology solutions that enabled their campaigns so they could collect donations online or through SMS.
What were your thoughts on Solcast and the renewables industry before joining?
I've always been pro environment. I have solar panels on my house. In fact, it was one of the first things we did when we bought it and its saved me so much money as well.
I studied mechatronic engineering at university and a lot of that was electrical so I had a pretty good understanding of photovoltaics and how the energy grid runs, AC circuits and things like that.
In terms of solar energy, my takeaway on it is that Australia is still more than or very close to 50% coal and solar is doing a really good job at taking a big bite out of that during the day, bringing that number down, sometimes as low as 25%, but at night - well you're not going to get any solar at night. Wind also does a great job at taking a slice out of that coal energy but then occasionally somedays you take a look at the metrics and there's not a huge amount of wind either so everything is just coal.
One of the things Solcast can help with is managing that grid stabilization during cloudy periods because if you go for energy storage, you need to know what the future holds. You need to understand that you are going to have a couple of cloudy days in a row so you need to reserve the energy now or you're going to have a bunch of sunny days and yes, its cloudy now or it's nighttime, but you can afford to drain your battery because you're going to have a great sunny day tomorrow.
I think this is a really cool industry to work in in that perspective. I think of this as something where I can really make a difference in terms of reducing the amount of coal usage and fossil fuels in a meaningful way.
How have your thoughts changed since starting?
One of the things that I think is most interesting to me comes from Solcast being a global company. I understood the solar market only from the Australian perspective before then. Having customers like Tesla onboard and providing critical services in North America is amazing, and they're using it for enegery storage management just as I described. They are working at their peak efficiency and getting the most value for themselves and their customers by predicting the weather over the next few hours or days.
Also now I'm thinking about how is Germany going to deal with the lack of gas and how is Europe going to cope with this energy crisis they are having? Natural gas prices go up, suddenly someone is looking for a replacement. Germany switched off all the nuclear, so what are they going to have to go to? They are going to have to go to renewables and they are going to need to be able to handle those low activity periods and manage it very efficiently and I have a feeling that companies like Solcast will be the ones that are able to power that transition and make green energy more competitive.
With your experience in leading tech teams, is there anything specific you hope to bring to Solcast?
I think the number one thing my experience has taught me is that stability reigns supreme over pretty much everything else. If you're selling an API as a product, you can't afford to have downtime or outages. People rely on your data. When I was working for Sydney Ports, that was a 24-hour operation and if the system is down, well, they're just wasting time and burning money. This is the same thing, Solcast is worldwide and making sure you can be responsive to the needs of your customer is imperative. It's important to realise that they are using this data to power their own industry and any instability in the API trickles down.
Where do you see Solcast in 5 years?
Solcast has a unique offering. The nowcasting space is very new and a growing area. I want to see the team grow and expand to overseas areas because we would really love to have more sales opportunities in different areas.
I'd love to see Solcast able to provide smaller and more granular estimates for everywhere which is a big data challenge but is a good direction to move in. I will be proud to deliver the best API service with the best quality data to our customers.