We are thrilled to spotlight the innovative work of our friends at Victron Energy, as they release their latest VRM product feature - Solar Forecasts, powered by Solcast data.
Using Solcast's global API, Victron Energy has integrated our solar irradiance forecasting data into a robust predictive model for their customers' solar production potential. Victron is consuming millions of Solcast irradiance forecast and estimated actual data points per day, and running its own machine learning models to model and forecast production for many thousands of customer sites. Read Victron's blog on this feature here.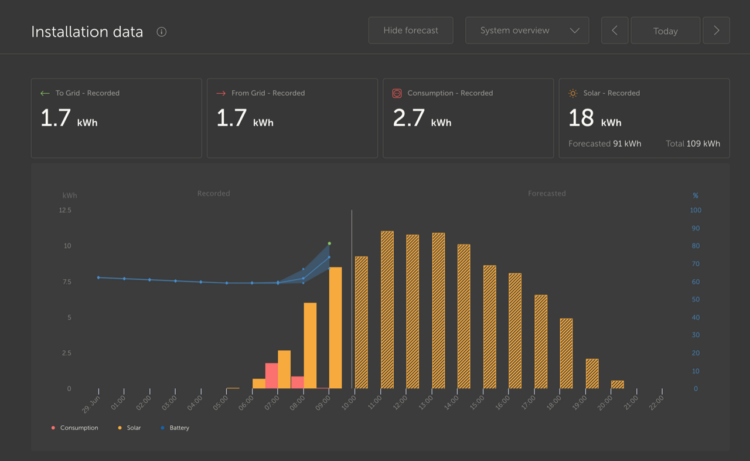 Source: Victron Energy
Through this innovative feature, Victron Energy now offers an even more comprehensive and real-time outlook on solar production. Existing installations equipped with this feature can access accurate solar forecasts for the day, helping to optimise energy consumption and storage decisions. Furthermore, the forecast feature includes estimations for the remainder of the day, allowing users to make more informed decisions about their energy usage.
Why Solcast?
Choosing Solcast as their data provider was a strategic decision for Victron Energy, driven by two significant factors:
Data Quality: Because Victron own the results they deliver to their customers, they can't afford to be relying on the weather model data delivered by generic weather APIs. They knew from test results that Solcast's sophisticated modelling and satellite cloud-tracking capabilities provided them the accurate and reliable irradiance data they needed. Learn more about how a solar-specific data provider's irradiance model makes a difference here.

Scalability and Customization: After many years dedicated to data for solar applications, Solcast has honed its ability to deliver data at scale and tailor licenses to fit specific applications. We've worked closely with Victron to craft a scope and license that is both technically efficient and economically viable for their specific needs.
The whole team here at Solcast are excited to see our data contribute to the development of such an impactful feature. We look forward to Victron Energy's continued innovation as they expand the forecast functionality in their platform, with plans to incorporate longer-range forecasts and improve the performance of Victron systems in other novel ways.
To our partners like Victron Energy, who are shaping the future of solar energy and making renewable energy more accessible and efficient, we say: keep shining!
If you're inspired by Victron's innovative use of Solcast's data and are seeking a globally scalable and reliable irradiance data source for your own applications, we'd love to hear from you. Get in touch with our team today.
For more information about the new Solar Forecast feature from Victron Energy, please visit their blog post.