Solar Irradiance and Weather Data Time Series
At Solcast, our mission is to get the best data & tools we can, into the hands of the folks building the solar powered future.
We are constantly driven to deliver the best data we can, making it as easy as we can for our customers and users around the world to access.
But that access doesn't just stop with data quality and ease of access - we've got to make the data affordable as well.
For this reason, we are constantly innovating on our backend technology to improve our efficiency, and drive down our prices.
Better prices, mean more widespread access to the data needed to plan, build and manage the rapidly growing solar energy resources around the world
Time Series Data Pricing Updates
After some big moves on our TMY and Monthly Averages data access and pricing last month, we now updated our Time Series data access to a monthly subscription model.
This means no lock-in contracts, and also means we've introduced a new four tier system, so you can match a suitable price with your unique requirements.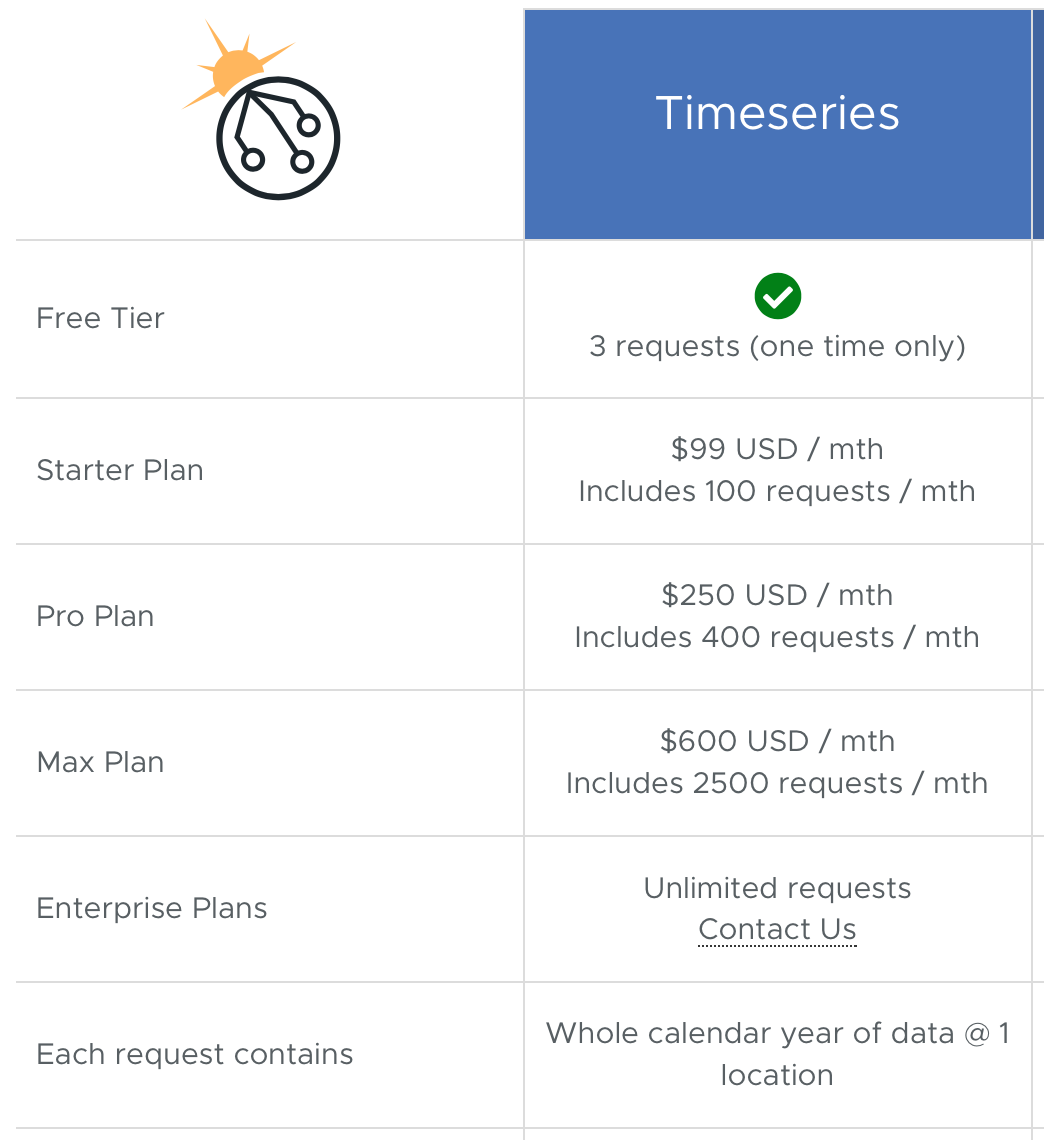 As always, we've maintained a free tier option. We've also introduced a 'Starter' level plan, which is only $99 USD / month, providing 100 Time Series requests / month.
Be sure to always check our pricing page for the most recent offering, as this could change in the future.
As we gradually move to a more 'API' based model for Time Series data delivery, we'd updated our pricing model to be based on 'requests'.
Each request is equivalent to one 'site-year' of data. This means, a year of Time Series data for one site equals one request.
Each request will provide your specified time resolution and file-format.
This includes options for 60, 30, 15, 10 and 5 minute data, providing a big improvement in value over our previous pricing model.
Accessing Time Series Data
You can access Time Series data from the API Toolkit.
We've continued with our 'order form' approach, so as to make the data easily accessible to a wide audience.
Importantly, you can now request data for up to 20 locations at a time.
The order form will show you how many 'requests' your Time Series order will consume, as well as how many requests you have remaining.
Should you need more requests, we'll provide easy upgrade prompting, so you can increase the size of your month-to-month plan.
As with all online orders, your purchase can be secured with a credit card, no purchase orders or bank transfers required.
Once you've submitted your requests, you'll be guided to the 'Recent Requests' page where you can monitor your order, including its ETA (Estimated Time of Arrival) and download the file(s).
Step 1: Add Locations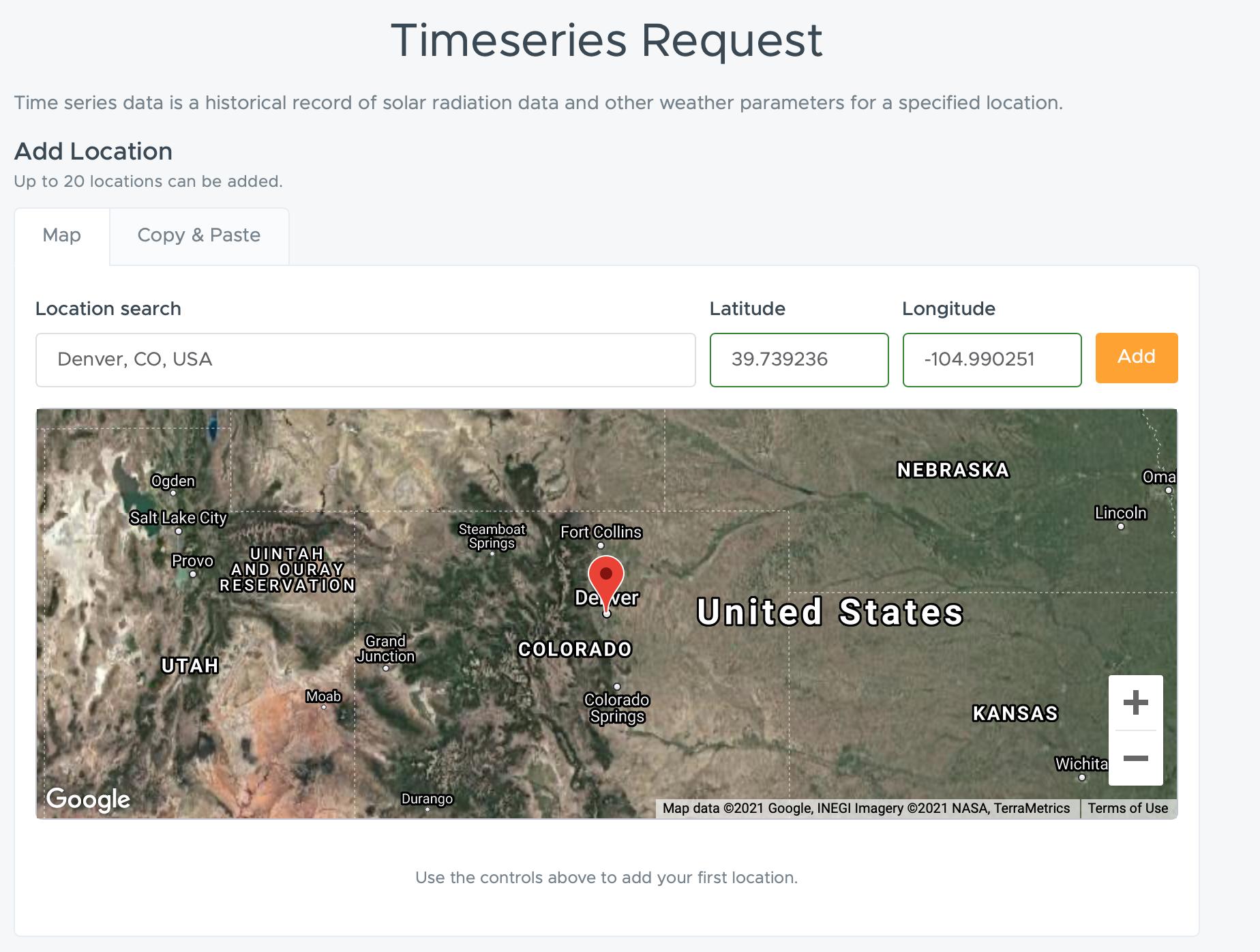 Step 2: Select Timezone, Parameters, File Format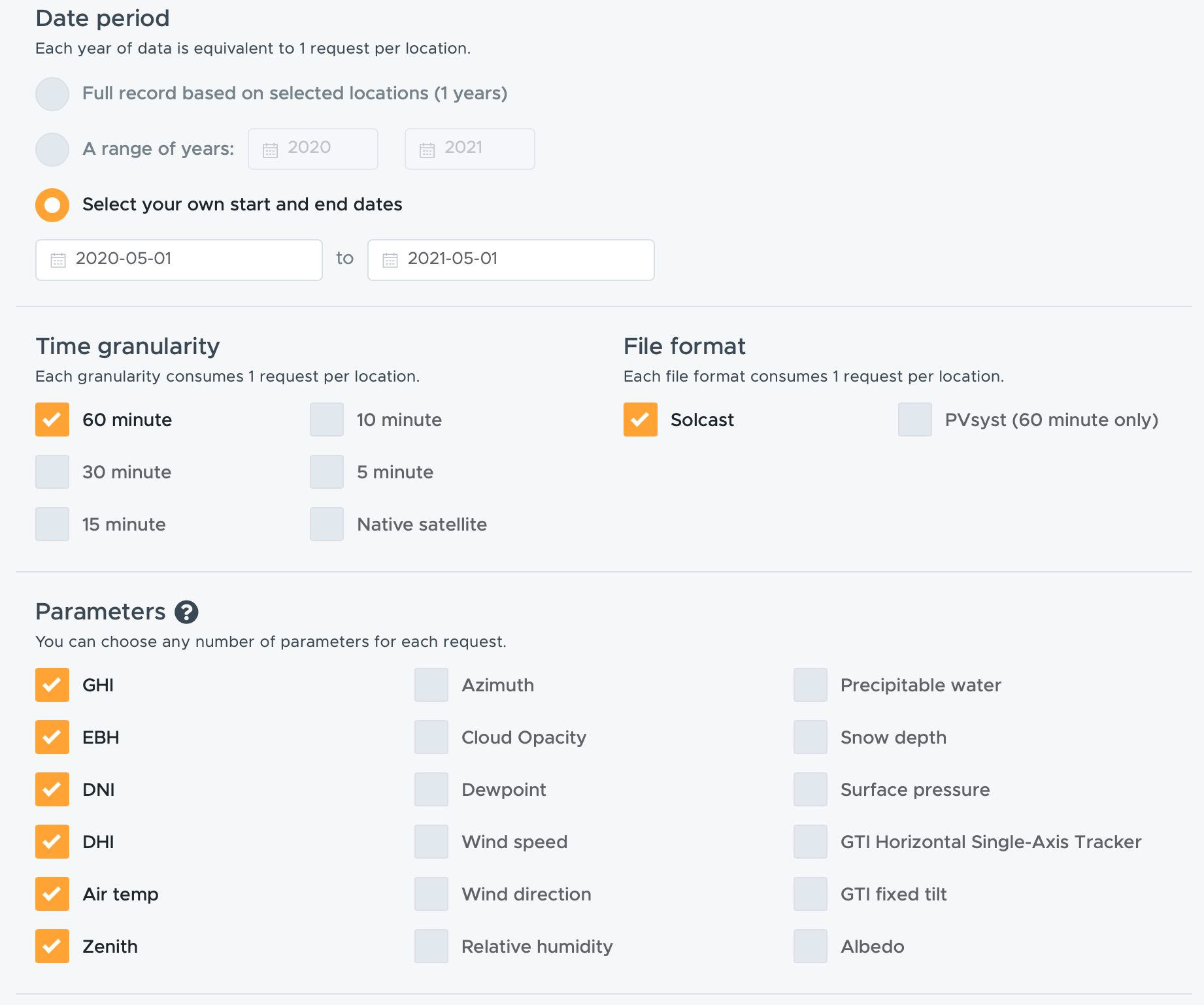 Step 3: Review Requests and Order

Step 4: Monitor Request and Download

Use your Free API Toolkit Account to Try It Out!
As always, it is free to test our data. Simply create a new account in our API Toolkit.
You can use our free tier account to access up to 3x free requests.