Solar Forecasting R&D Project
Through generous funding from the Australian Renewable Energy Agency (ARENA), Solcast partnered with the Australian National University to deploy operational solar forecasting and PV measurement data services to 11 Distribution Network Service Providers (DNSPs) across Australia.
Knowledge Sharing: PV Datasets
Under this R&D project, researchers at the Australian National University developed and employed quality control and PV 'tuning' algorithms to produce a high quality PV power dataset that is freely available for research purposes. This algorithms are based upon peer reviewed, published work, which are further detailed in the below documentation.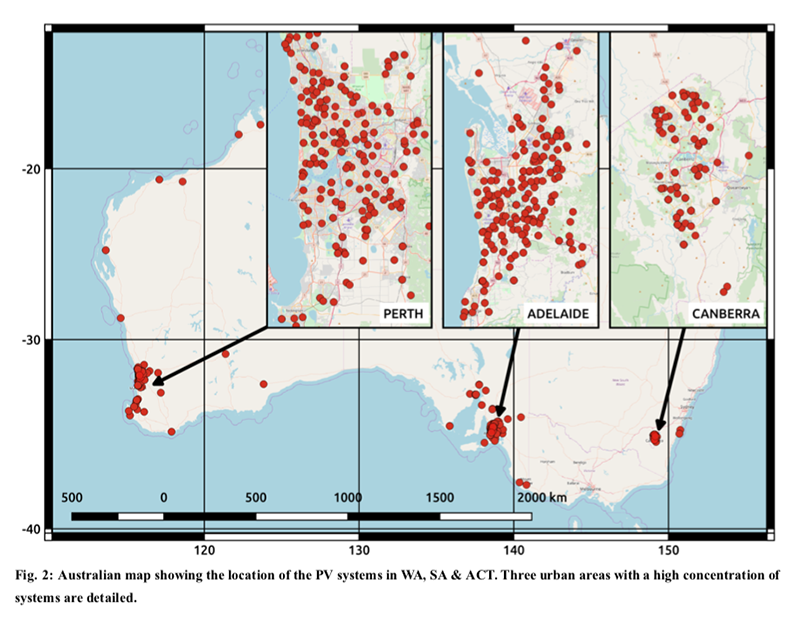 The dataset comprises PV system power measurements and metadata from 1,287 residential installations across three states/territories in Australia--- though mainly for the cities of Canberra, Perth and Adelaide.
The data consists of real inverter reported power measurements from PV systems that are well distributed throughout each city. This dataset represents a considerably valuable resource, as public access to spatio-temporal PV power data is almost non-existent; (until now!)
PV Power Output Dataset with Documentation
PV power measurements documentation (1.8 MB) Metadata and Timestamps Information (0.95 MB) PV Power Dataset Download (539 MB)