Solar Energy is an Exponential Technology and is Growing Exponentially in Australia
Solar is an exponential technology. What this means, is that its price performance is falling on an exponential curve and its growth globally is growing upwards in the same fashion. This is evident in the uptick in solar capacity growth in Australia, which saw an increase in 2017 of 1.3GW.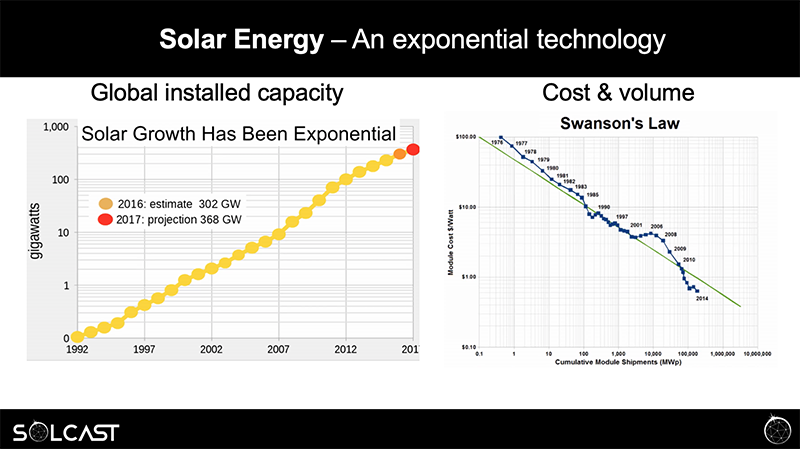 Separating itself clearly from major incentives and being driven by market fundamentals, this pace is set to continue in 2018 as small and medium scale solar installs are joined by a large influx of solar farms, with as much as 4x more solar capacity coming online!
High Penetration Solar is a Challenge for Network Operators
Our networks, markets & regulators are doing their best to keep up, but with the power of the exponential driving solar into the grid (& storage not far behind), this is a major challenge. The industry needs to act more nimbly, take more risks and quickly test new ideas.
Solcast is working with a wide array of industry partners to make this transition as smooth as possible. And in that work, I see without exception, a vast network of people who believe in the solar-powered future and are working in earnest to make it happen. To those folks, I challenge you to push your organisation to build, test & learn as quickly as you can and to collaborate deeply. We have to do our best to keep up with the exponential!
Peace, Love & Solar
-Nick-