Looks like a sensor measurement, right?
Actually, it's 5-minute #solar data from the Solcast API, made by tracking cloud movements minute-by-minute, globally!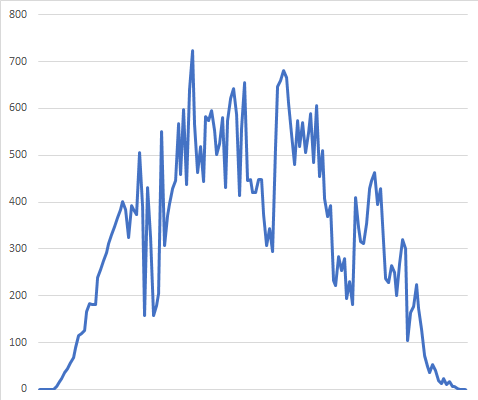 The Solcast (Solar Radiation Data Experts) team has been busy... We have upgraded our cloud and aerosol tracking algorithms to make a large ~10% error reduction, added 15 new weather & soiling parameters to better enable your simulations, and eliminated gaps in actuals to make your data-wrangling easier.
But for me, the coolest new feature is the realism and accuracy of the 5-minute data, which we make by tracking clouds precisely between satellite scans (and into the future). Thanks to this #innovation, you can now get actuals and forecast data at 5, 10, 15, 20, 30 and 60 minute granularities; updated every 5 minutes at 1-2km resolution globally!
We'll be announcing more details in an upcoming formal release. However, we are already upgrading customers - so contact us if you're keen to move ahead of the pack!